ecopet rolls are simply the best, most healthy and natural diet your pet can get.
All Natural Product:
no added preservatives
no added chemicals
no added colours
no added sugars
no added thickeners
no added emulsifiers
low moisture content
Benefits:
helps with skin problems
helps with intestinal problems
natural wormer
helps with flatulence
veterinary recommendation and usage
reduces breath problems
helps with oral hygiene
firmer stools—easier to clean up
high energy yield per kilo—feed less
feed rate 150gms of ecopet per 10kg of dog weight (approx)
Product analysis
ecopet chicken and vegetable roll per 100 grams:
protein – 16.5 g
fat – 10 g
fibre – 1 g
moisture – 59.8 g
calcium – 1.37 g
carbohydrate – 3.9 g
gross energy MJ/kg – 14.8
kilo calories/100 g – 211
Other Features:
all ingredients processed fresh daily
sealed then cooked to retain maximum food value
slow and gentle cooking
microbiologically tested
permitted to be displayed next to human consumables in retail outlets
long shelf life – 5 weeks refrigerated – frozen indefinitely
low volume of packaging waste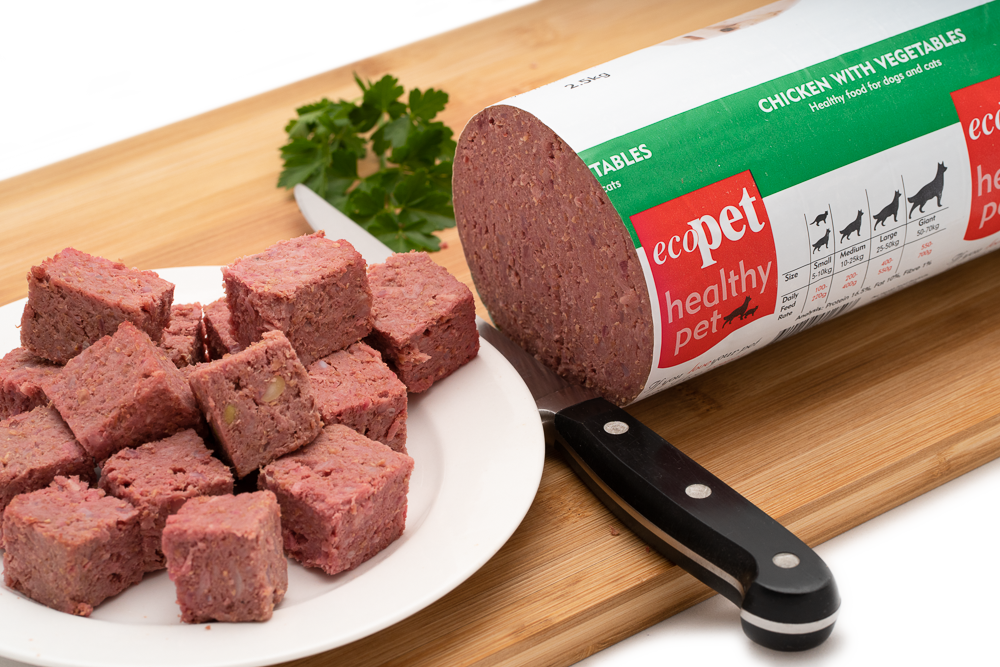 Complex packaging and an accurately controlled cooking process gives ecopet rolls a long refrigeration shelf life. 
ecopet rolls will maintain their high quality if unopened and refrigerated for 5–6 weeks. Once opened, ecopet rolls should be consumed within 7 days, covering the exposed area between servings.
For long-term storage, ecopet rolls can be frozen whole or cut and wraped into meal size portions.